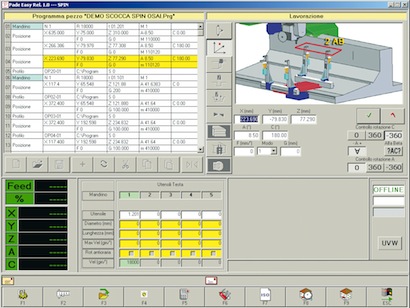 PADE has developed its own system including 'self-teach' measurement functions and work cycles. The self teaching system allows the operator to move all 5 axes manually by remote control and, completely around a sample fixed on the working table.  This together with control of the spindle to the position where a certain operation has to be made allows for simple program teaching. At that point, specific macros required and located in the industrial computer can be selected, and the specific operations (drilling, tenoning, mortising, saw blade cut, etc.) are selected.  Machining is automatically memorized. (Only the input of the values of the depth, speed, etc. for the machining function have to be made).  The dynamic interface simplifies the programming of the various operations, avoiding the more complicated and non-flexible ISO programming.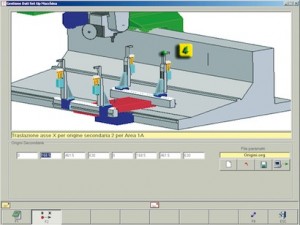 Main characteristics:
     Optimization of the trajectory of the the rapid tool movements. This characteristic optimises      and speeds up the main program.
     Rototranslation of machining in work-planes directly at the machine without need the                operator to modify the program in the CAD/CAM station.
     PreStarting of the tool while another is currently working, to reduce to the minimum the            time for tool changing while working.
     3D tool radium compensation in space.
     Immediate execution of the single operations inside the main program.
     Operation sequence editing directly at the machine.
     Integration of the basic operations, holes, mortises, tenons etc in the main program without      the need of  the CAD/CAM station.
     The functions that are directly insertable in the program can be modified at the machine.